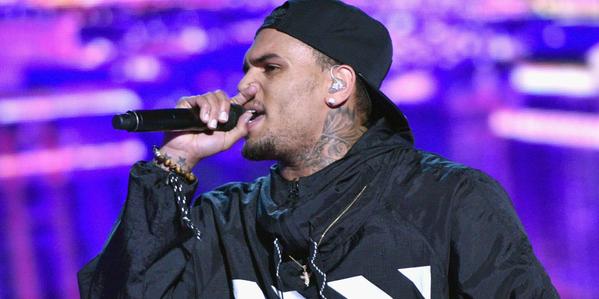 Chris Brown
Yesterday, the Judiciary Report wrote about Chris Brown's money woes (
Chris Brown Isn't Broke But Is Having Money Woes
). Today things just got worse for the singer. Brown was denied entry to Canada, where he was scheduled to perform on tour with singer Trey Songz. Brown was set to take the stage at the Bell Centre in Montreal tonight and the Air Canada Centre tomorrow, for two "sold out" shows.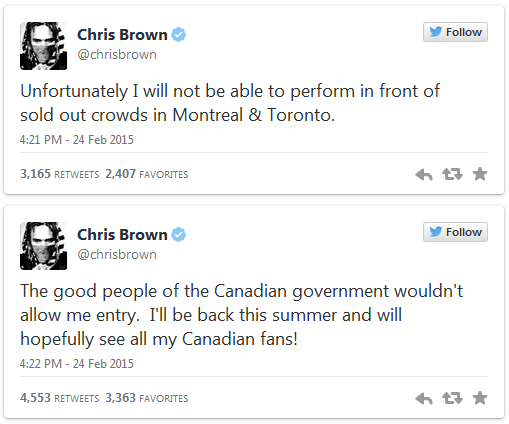 Chris Brown's tweets about his cancelled tour dates in Canada
However, due to Brown's inability to enter the country, their Toronto and Montreal tour stops have been cancelled. Brown stands to lose $100,000 due to the cancellation and additional funds from paid appearances. Ironically, the Canadian tour dates sold better in comparison to other tour stops (
Chris Brown And Trey Songz 'Beneath The Sheets' Tour Experiences Sales Problems
). Brown was denied entry to Canada, as he has a felony conviction, after pleading guilty to a domestic violence incident regarding then girlfriend, Rihanna.
STORY SOURCE
Chris Brown denied entry to Canada before Toronto, Montreal shows
CBC News Posted: Feb 24, 2015 4:53 PM ET Last Updated: Feb 24, 2015 4:53 PM ET - Chris Brown will not be at his Canadian concerts this week, according to his Twitter account. Chris Brown was not allowed to cross the border into Canada ahead of two sold-out shows in Toronto and Montreal, the R&B singer tweeted his 14-million followers on Tuesday. Brown was scheduled to appear at Montreal's Bell Centre on Tuesday night and at Toronto's Air Canada Centre on Wednesday night...