Website TMZ bribed an employee of the Standard Hotel in New York (or hacked them) for video footage of singer Solange Knowles, beating up brother-in-law Jay-Z, while his wife Beyonce stood by smiling watching the whole thing unfold. Beyonce's bodyguard tried to restrain Solange, but she broke free twice, with the strength of twelve MMA fighters.
Solange attacked Jay-Z three times in the elevator with kicks and punches, while furiously telling him off. Solange even spat on Jay-Z, showing nothing but contempt for the rapper. Jay-Z, who has been cheating on Beyonce with Rihanna, Rita Ora and other women, was stunned at the butt kicking.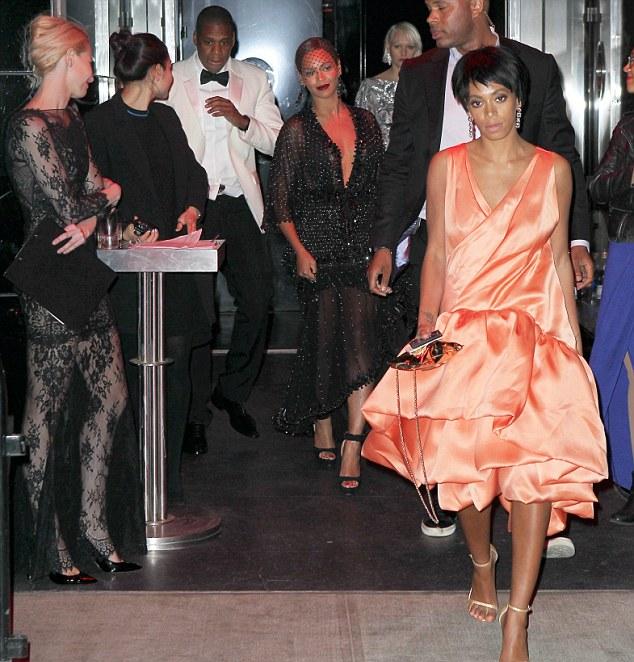 Beyonce, Jay-Z and Solange leaving the elevator after the fight. Solange walked out of the elevator like nothing happened and Beyonce smiled. However, Jay-Z looks panicked and shook up, like Solange slapped the taste out of his mouth.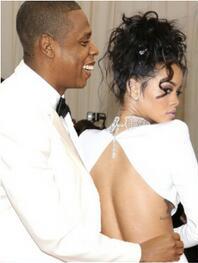 This scene/sight of Jay-Z and longtime mistress Rihanna which occurred earlier at the event could not have helped things
A few years ago, Jay-Z was caught on film beating up a female fan backstage. On another occasion a British journalist reported seeing Jay-Z punch Beyonce in the arm very hard. However, Jay-Z is obviously scared of Solange Mayweather, who fired off a flurry of punches in the elevator that even Mike Tyson would admire. Jay-Z will never live it down. Solange hit him with the Mayweather (LOL).
Jay-Z beating up a woman backstage at a concert: