R&B singer Chris Brown spoke during a video interview about his forthcoming CD that has been delayed two times. Brown stated the album is now scheduled for release in November. He also spoke about collaborations he has worked on with singer Jennifer Lopez. Brown looked a bit out of it during the interview and not as upbeat as he often is when speaking about his music.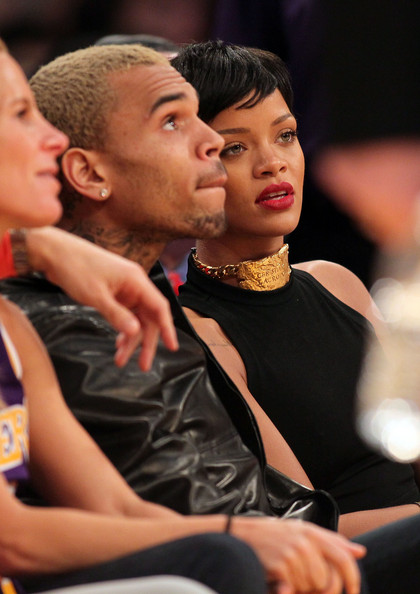 Chris Brown and Rihanna
Across town, Brown's on and off again girlfriend Rihanna engaged in another attention seeking stunt in begging for sex online, with blogs and readers believing she is talking about Brown. Rihanna sounded desperate when she tweeted on social networking website Twitter, "Lastnight....YOU were in my sex dreams!!" and "I could give a p**ck about the foreplay...I want it now." However, somebody beat Rihanna to it (see: Karrueche Tran).

Rihanna's tweets
Either way you cut it, Rihanna is posting some desperate tweets to Chris Brown and his rival, rapper Drake. There's flirting, then there is flat out desperation, which doesn't look good on anyone. Why can't Rihanna learn to keep her cool. There's a greater problem there. Neither man has stayed with her indicating what she's doing in and outside the bedroom is not working. Yea, I said it (LOL). Seriously, her antics are driving people away. Life is too short. People don't have time for the aggravation.
STORY SOURCE
VIBE Posted September 23, 2013
This past weekend, Chris Brown gave a rare interview to The Breakfast Club backstage at the 2013 IHEARTRADIO festival. While speaking on his delayed sixth studio album X, Breezy said that the project was definitely set for a November release date. He also confirmed that he wrote two songs for Jennifer Lopez's forthcoming album, one titled "Same Girl" and the other "Emotions."
Rihanna Tweets About 'Sex Dreams' — Sending Chris Brown A Message?
Fri, September 20, 2013 5:54pm - Rihanna is the queen of subliminal Twitter messages, so when she tweeted "Lastnight…. YOU were in my sex dreams!!", along with a couple other suggestive tweets on Sept. 20, we couldn't help but wonder if she was sending her ex Chris a sign that she wants him back between her sheets.
Rihanna has been single for a while, so we're not surprised that she seems to have some pent up sexual energy right now. The Unapologetic singer took to Twitter to share some of her feelings about sex, also tweeting that she "could give a ***ck about foreplay." Wow! RiRi is clearly feeling frisky — is it for her ex Chris Brown?
Wow! Rihanna is definitely telling it like it is. But who is she talking to? While those messages could have been meant for anyone, it's the tweet she sent out in between that made us think she was talking about Chris: "You'll never leave me…you'll always be part of the person I'll become!", Rihanna tweeted on Sept. 20.
We all know that Chris, 24, is RiRi's first love — maybe even the love of her life. They have been through so many ups and downs together and Rihanna has confessed that she will always love Chris. So it seems almost impossible that the above tweet could be meant for anyone else! Is Rihanna reflecting on both her emotional and physical relationship with Chris and thinking she might want him back? It certainly looks that way to us!
Rihanna's Necklace From Chris Brown — Why She Wore The Bling From Her Ex
Rihanna gave Chris another sign that she still cares when she stepped out on Sept. 3 wearing a necklace that he once gave her as a romantic gift. HollywoodLife.com EXCLUSIVELY discovered the reason behind RiRi's surprising accessory choice...