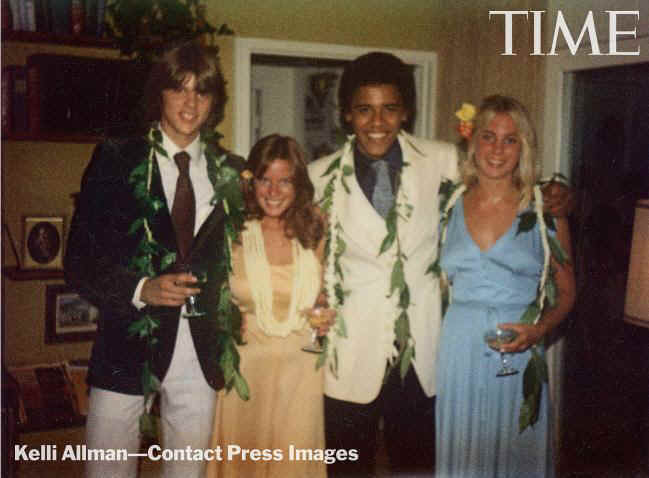 Obama and Megan Hughes (far right)
Globe Magazine, a known tabloid in America, has written a scandalous piece on U.S. President Barack Obama and his high school prom date, Megan Huges. Normally, the Judiciary Report would not quote such a source, but the magazine has excerpts from a lawyer connected to Hughes, who spoke on her behalf.
A then 17-year-old Barack Obama took a then 15-year-old Megan Hughes to the prom at his high school in Hawaii, the Punahou School. The article alleges, the President took her to a hotel after the prom and had sex with her. Shortly after, Obama is said to have "dumped her." Obama went on to Harvard and eventually the Presidency of the United States. However, Globe states Hughes took a different path. She went Hollywood and had a guest appearance on the 1980s cop show "Magnum PI" which was film in Hawaii.
However, her career did not take off and Globe states Hughes began making softcore porn movies. The piece also reveals Hughes, who has a drug problem, was arrested for prostitution as an escort. The magazine states she used to charge $300, then $200, but due to "gravity" kicking in, now charges $100 for sex.
Globe states Hughes and Obama are still in contact, as she received a signed copy of one of his books. It was stated Mrs. Obama is not happy about them still being in communication with each other and why should she be. No ex should be attempting to linger in the background.
It's always sad when someone takes the wrong path in life. This story is a lesson in what happens when one does so. There are no shortcuts in life. Everyone pays a price when they choose to do things the wrong way. It may seem like progress at first, but when the consequences crop up, the truth becomes evident that it was not and often painfully so. Just think, Hughes could have been the First Lady of the United States, but the road she went down was a shortcut filled with trouble, turmoil and heartbreak.