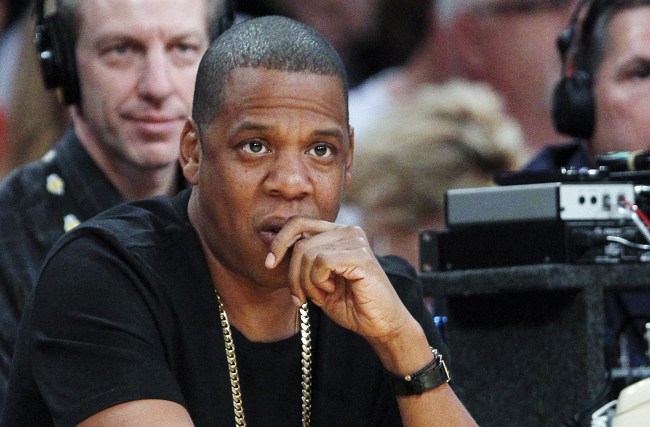 Jay-Z
Loudmouth rapper Jay-Z has really messed up. Many in the black community are still angry with him over his song "Open Letter" which
brought scandal on America's first black President Barack Obama. So much so, long time supporters, Bossip, the top black blog on the internet, slammed him something awful in a piece today.
Bossip are big Obama fans, who heavily promote the president, so Jay-Z's conduct didn't sit well with them at all. Bossip took shots at Jay-Z's appearance, basically stating he is not easy on the eyes (even invoking his facetious nickname "Joe Camel" for looking like the cartoon figure - I don't know, he reminds me more of the Ninja Turtles). They also called him everything from a thief to a pedophile, citing examples:
STORY SOURCE
Low Down Dirty Camel: 7 Ugly Realities About Jay-Z
"First time I laid eyes on her (Beyonce) she was 16, I had a thought in my head, she will be mine" – Hov. Hmm, then Foxy reveals that he took her virginity when she was 15 years after his rumored tryst with a much younger Aaliyah (who R. Kelly secretly married). The dots basically connect themselves.
According to Hov, he has White House clearance, brought the Nets to Brooklyn despite his 0.0353061% ownership (that he recently sold), lost 92 bricks without losing fingers and is considered "handsome" by women with two fully-functional eyes.
He's a completely unoriginal artist
Most Hov stans will never admit that their father figure and hero—legendary MC Jay-Z—borrowed most of his style from other more talented rappers (Big, Kane, Jaz-O and Big L), molded them into his own and flourished.
He's a brilliant businessman for Jay-Z. Terrible businessman when others are involved.
How many artists from the Roc were actually successful? Memphis Bleek? Chris or Liddo Neefie? Other than Rihanna and Ne-Yo, what other artists developed into stars under his Def Jam reign? Chrisette Michele? Teriyaki Boyz? He's worth almost a Billi but faces lawsuits from 40/40 employees for unpaid wages on the regular?
Seriously, does he even remember signing J. Cole to Roc Nation? Bridget Kelly? Alexis Jordan? Who? Let's be real, he's not THAT different from Diddy who only profited from artists without ever developing them.
He doesn't use his influence to effect social change
Bey Bey & Hov are worth billions, combined, but rarely delve into philanthropy like the Brangelinas, Bruce Springteens and George Clooneys who dedicate much of their time to social causes. Filthy rich but no community rebuilding projects in Brooklyn or Houston? Interesting.
"I think one of the great abuses of this modern time is that we should have had such high-profile artists, powerful celebrities. But they have turned their back on social responsibility," he accused. "That goes for Jay-Z and Beyoncé, for example" – Harry Belafonte, legendary actor/Civil Rights activist.
Shawn Carter is a hypocrite
For years, video footage of Hov hitting an unidentified woman during the Hard Knock Life tour floated around the internet with no official explanation of what happened. But he boycotts (and threatens) Chris Brown for assaulting Rihanna?
His entire career is built on slick dope dealer tales but now he's pro-Government/Obama's BFF? Cmon Hov.