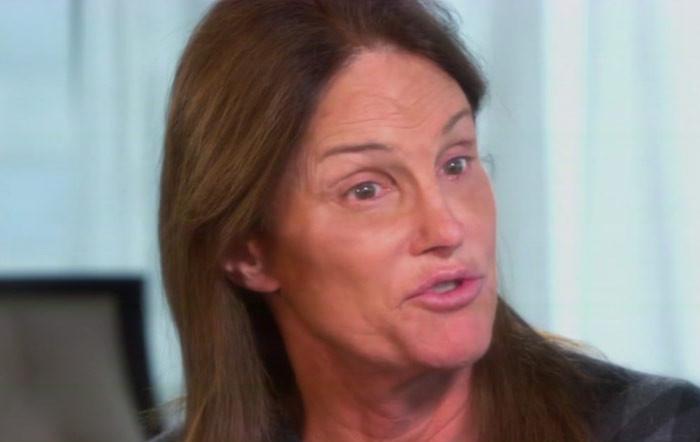 Bruce Jenner is now Caitlyn Jenner and has become the poster person for transgender movement in a message the public is not embracing, as his show's ratings have steadily plummeted
The British "Sexual Offences Act" has some gay and transgender people angry, as it criminalizes deceiving straight people into sexual activity, under false premises. The Sexual Offences Act states, "Lack of consent may be demonstrated by...evidence that the complainant was deceived as to the identity of the person with whom (s)he had intercourse."
In a number of countries, transgender and gay men who dress as women, have been killed by heterosexuals, who flew into a rage over being lied to and duped into sexual activity with someone they were led to believe was of the opposite sex.
There is also a criminal case concerning 25-year-old woman, Gayle Newland, who began an online relationship on Facebook with another female, whom she had lied to an stated she is a man named Kye Fortune. After conversing for a time online, they decided to meet up in person. Lesbian Gayle, pretending to be a man, asked that the lights be dimmed in the room and the woman wear a blindfold. The woman went along with it, believing she had found the right man for her, who unbeknownst to her was a lesbian.
They engaged in sexual activity, where lesbian Gayle used a prosthetic penis. After a few more encounters, the woman became suspicious complaining the penis did not feel right. So, without warning the woman turned on the lights, only to find Gayle, a lesbian woman with a fake prosthetic penis in bed with her, not a man.
Judge Roger Dutton stated, "This was a highly elaborate deception where Newland abused the trust that the victim had in her. She has been extremely upset by what has happened and there is no doubt there will be a lasting psychological impact on her." The judge further stated Gayle has, "Serious issues surround her personality."
An American Marine, Lance Cpl. Joseph Scott Pemberton, on duty in the Philippines, was convicted of murdering a transgender man, Jennifer Laude, whom he thought was a woman. Pemberton took Laude back to a hotel. Laude performed oral sex on him with out telling the solider he is a transgender man, not a woman.
After performing oral sex on the marine, the transgender man removed his pants, which exposed his penis. The marine flew into a rage and shoved the transgender man's head into a toilet until he stopped breathing. The marine was convicted of murder in December 2015 and faces 6-12 years in prison. The marine stated he felt like he had been raped. Under universal legal definitions, he was raped, but should not have resorted to retaliatory violence and murder.
Murder is unquestionably wrong. However, the transgender man's death could have been prevented had he not deceived the marine and had oral sex with him. That's a terrible shock to inflict upon someone and you never know how a person will react. The transgender man committed sexual assault, which led to the marine committing murder.
In America, Texas College football player, Carlton Ray Champion Jr was arrested on suspicion of murdering Tyrone Underwood, a man he thought was a woman and began dating. University student, Champion, made Underwood his girlfriend, not realizing he was a transgender man, pretending to be a woman.
Champion's father told police his son thought Underwood was a woman and "was meeting (Underwood) and thought (Underwood) was female" and he "was supposed to get some type of sexual favor from (Underwood) but realized Underwood) was a male." Champion did not know Underwood was a man pretending to be a woman and allowed Underwood to perform oral sex on him. He found out afterwards that Underwood was not a woman and flew into a rage, allegedly killing him.
For any gay person to operate under the premise that because you are gay/transgender and believe you do not have equal rights in society or are bullied, you have the right to deceive then in essence and fact sexually assault/rape someone, by pretending to be something you are not whilst engaging in sexual contact, means you simply can't be a victimizer, is wrong. Just like straight people can rape and sexually assault others, so can gay people rape and sexually assault others. Rape and sexual assault is wrong no matter who does it.
Transgender people often speak about wanting to live their truth. However, what about the truth of the other person being deceived. Do they not deserve to know the truth that you are transgender. Do they not deserve the right to make an informed choice.
I read that some transgender people like to test how convincing and believable their "gender reassignment" is by trying to fool straight people into dating them. There are nations criminalizing such behavior, as it victimizes people who were deceived. Not only does this deceitful behavior victimize others, it is endangering transgender people who lie to straight individuals and end up assaulted or killed. It's not a good idea.
There is a large increase in the number of transgender people murdered in America between 2015 and 2016, who were violently stabbed, shot and or burned to death. For your own sake, do not date and deceive people regarding your gender, as it can turn deadly.
There is a terrible development in Hollywood among some gay, lesbian and bisexual entertainers and executives, who are sexually assaulting and raping straight people, via threatening to publicly brand them "transphobic" and "homophobic" which would ruin their careers in the industry, if they resist being violated. That is in fact sexual assault, molestation, rape, extortion and blackmail. If someone does not want you, whether you are gay or straight, you have no right forcing yourself on them through blackmail or any other means.
STORY SOURCE

U.S. Marine Found Guilty Of Killing Transgender Woman In Philippines
12/01/2015 06:27 am ET - A Philippine court on Tuesday convicted a U.S. Marine of killing a Filipino last year after he discovered she was a transgender woman in a hotel while he was on a break after participating in joint military exercises in the country.
Lance Cpl. Joseph Scott Pemberton was convicted of homicide by first strangling Jennifer Laude and then dunking her head into a toilet bowl in the hotel they had checked into after meeting in a disco bar in October 2014 in Olongapo, a city northwest of Manila. He was sentenced to 6-12 years in jail and credited with time already spent in detention, said court clerk Gerry Gruspe.
Monday 24 August 2015 11.35 EDT - US marine charged with murder testified in court on Monday that he choked a Filipino victim unconscious during a fight that started when he discovered that she was a transgender woman in a Philippine motel, but he stressed that he didn't kill her, his lawyer said.
Lawyer Rowena Flores said her client, marine private first class Joseph Scott Pemberton, told the court in Olongapo city that Jennifer Laude was unconscious but breathing when he left her in the shower of a motel, where they checked in to have sex after meeting in a bar in October last year.
Pemberton panicked after seeing her unconscious and left. Defense lawyers would present evidence that raises the possibility that someone else killed Laude, according to Flores. Flores quoted Pemberton as telling the court that he felt he had been raped.
9 April 2013 - A woman who posed as a man so she could have sexual relationships with two teenage girls has been placed on probation for three years. Christine Wilson, 25, from Aberdeen, was also ordered to carry out 240 hours of community service and placed on the sex offenders register. The judge said he had not jailed Wilson, who has Gender Identity Disorder, because she pleaded guilty. Her two victims, who cannot be named, were both under the age of consent. The offences took place in 2008 and 2010.
5 March 2012 - A "deceptive and deceitful" woman who disguised herself as a boy to date female Facebook friends has been jailed for two-and-a-half years. Gemma Barker, 20, used false male identities to have sexual encounters with her 15 and 16-year-old victims, Guildford Crown Court heard.
Barker, from Staines, Surrey, admitted two counts of sexual assault and one charge of fraud at an earlier hearing. She was told half the sentence would be in custody and the rest on licence. Ordering her to serve the time in a young offenders institution, Judge Peter Moss said: "I have concluded that these offences are so serious that only a custodial sentence is appropriate."
'No remorse' - the court was told the assaults, which took place between 23 November 2009 and 10 May 2010, included kissing, cuddling and sexual touching. One of Barker's victims realised something was wrong when she thought the boy she was having a relationship with looked similar to a boy the other victim was dating.
Probation and psychological reports found Barker had autism spectrum disorder and attention deficit hyperactivity disorder, commonly known as ADHD. But the judge said she was "deceptive and deceitful" and had planned the offences. "Nothing that you have ever said to any expert or the police sheds any light on, or provides any understanding of, your motivation for these offences," he told her. "Nor have I nor anyone else seen any flicker of remorse for what you have done." She received 30-months for sexual assault and three months for fraud, to run concurrently...
Posted on September 21, 2015 - In Newland the central issue was again deception; the defendant knew the complainant well and pretended that her alter ego ("Kye Fortune") was a friend of hers, using a Facebook profile in this fake name. The use of the internet to deceive the complainant featured in McNally too as the defendant was pretending to be a boy called "Scott Hill"[7] when she met and communicated with the complainant online some years before they finally met.
In Newland there was a further deception in relation to what the complainant was being penetrated with – a prosthetic, strapped on penis rather than one which was physically a part of the defendant. This takes Newland beyond McNally as the sexual act of being penetrated by an object is physically different to being penetrated by a penis.
February 10, 2015 - Unusual story coming out of Texas. Here are the details about a relationship that went horribly wrong after a Texas College football player finds out that he has been in a sexual relationship with a transgender male. A Longview man has been arrested for the murder of Tyrone Underwood.
Carlton Ray Champion Jr. was arrested Jan. 29 for a probation violation, but was the prime suspect at the onset of the investigation, according to the official affidavit. On Jan. 26, officers found Underwood, 24, of Tyler, dead in his vehicle from multiple gunshot wounds in the 400 block of West 24th Street. Early interviews with people who knew Underwood revealed the two men had been seeing each other for several weeks...
"After reading the text between Champion, Jr. and Underwood, it was clear that the two have had sexual relations with each other," one detective wrote. One of the detectives interviewed Champion's father and wrote "[Champion's father] stated that Carlton Jr. was meeting [Underwood] and thought [Underwood] was female. According to [Champion's father], Carlton Jr. was supposed to get some type of sexual favor from [Underwood] but realized [Underwood] was a male."...